A1 Pools – Pool Builders Perth – Swimming Pool Construction
Personal Approach. We make our pools suit you
The best way to beat the heat in the WA summer is to cool off in your swimming pool. If you don't have one, it's time to contact one of the most experienced pool builders in Perth, A1 Pools.
With more than 35 years' experience in building pools and spas, we have been helping Perth residents cool off and warm up, and we continue to do so. When it comes to swimming pool construction we will design and build your dream pool, designing it to suit your space, lifestyle, home and budget.
We build custom concrete pools and spas for both residential and commercial clients, so contact us to get the process started. Quality and service is guaranteed with every build, and you get a lifetime of enjoyment from our unique products.
At A1 Pools, we do not use pre-cast pools, which means we can build a pool or spa to fit any space. By using concrete it allows us flexibility of size, depth and shape that can be customised to suit your requirements.
Looking for a lap pool to train for your next Ironman? Call us. Want a large pool with a built-in bar to entertain and impress your clients and friends? No problem. Want a fun, spacious pool with a secured, shallow section for the kiddies, you got it. No job is too big or too small, we pride ourselves on coming up with creative pool ideas for all our clients.
If you have an existing swimming pool or spa and need renovations done, we can do that too.
Call us and talk to one of our friendly staff-members who will advise you on the best pool to suit your needs, and add the maximum value to your property.
Our different pool and spa offerings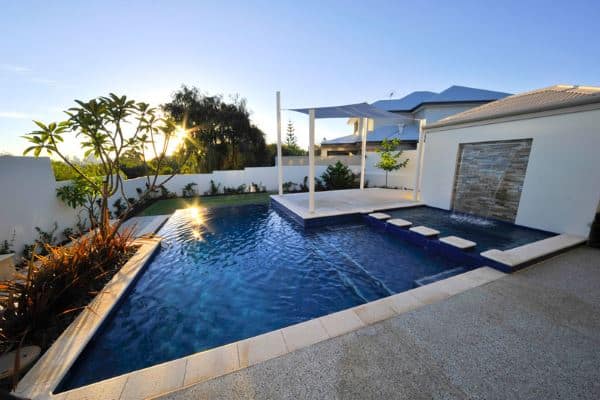 Concrete Pools
If you are looking for concrete swimming pools in Perth, talk to us. We are one of the most experienced pool builders in the country and pride ourselves on delivering products that suit your requirements and budget. We will turn your home life around, offering you options for an outdoor lifestyle you never thought possible. Never overheat again, and get used to the idea of entertaining mates around your pool with regular barbeques. We have a range of designs to choose from, or we can supply you with a unique custom pool.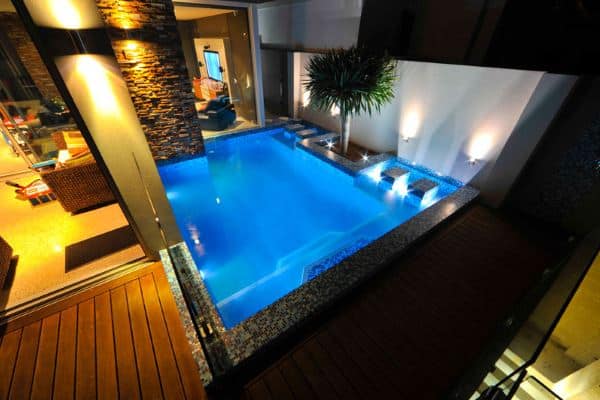 Plunge Pools
If you have limited space in your yard but still want a pool to cool down in, we offer a range of plunge pools perfect for you. Our plunge pools can be found all around Perth and are the perfectaddition for any yard. Choose from our current range of plunge pool designs or we can custom design one to suit your specific space. Either way, Perth summers will never be the same again. With a plunge pool to cool down in, you'll welcome the summer more than ever. We'll even put in a safety ledge for the kids.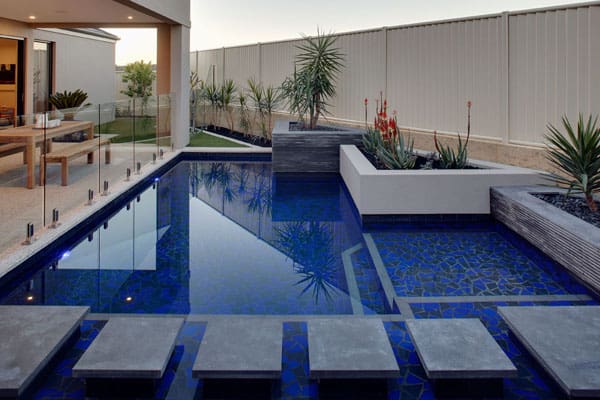 Courtyard Pools
Courtyard pools are perfect for those homes with limited space.They offer you all the advantages of a regular swimming pool but are designed for smaller areas. They can also accommodate jet systems, and ledges or seating can be incorporated into the design. Make that small yard into a practical entertainment area, adding value to your home and happiness to your lifestyle.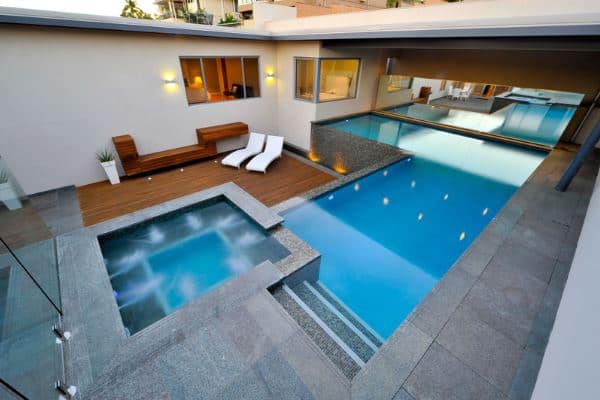 Spa Pools
If you're looking to complete your home with the ultimate lifestyle product, we will design and build you a spa pool that Perth home owners can't get enough of. We offer beautifully designed spas with high-quality products and a ten year structural warranty to back up our workmanship. Spas can use cold water in summer or be heated in winter, making them an ideal all year round lifestyle product. We will work hand in hand with the owner, landscaper, architect or builder to achieve a finished product that transforms your yard and fits into the style of your home or resort.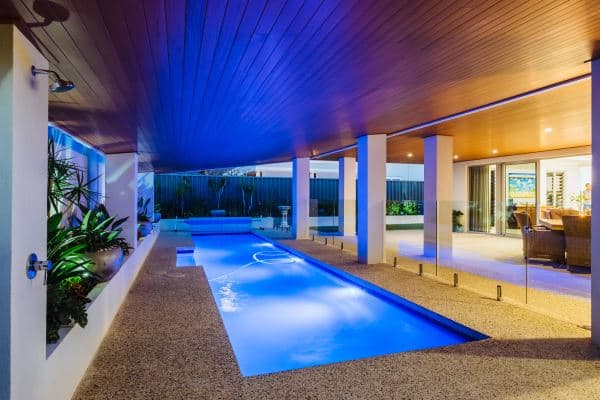 Lap Pools
Training for Ironman or for the next Rottnest Channel Swim, why not train at home with your very own lap pool that Perth home owners have come to love? Swimming is one of the best forms of exercise, as it's an all-round workout with low impact. We can build you any size lap pool, depending on the space you have. We can build it indoors or outdoors with built-in lights to make it an attractive and functional addition to your home.